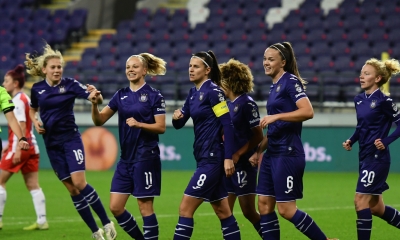 The Super League is the highest division in Belgium's women's football. The competition is the successor of the BeNe League, which was cancelled after the 2014-2015 season. RSC Anderlecht is present since the beginning of the competition.
The competition started in the 2015-2016 season with eight teams and was played in two stages: a first stage in which all eight teams played each other and a second stage which was played in a playoff format. The first four teams dueled each other for the title, the last four battled against relegation.
In the 2016-2017 season, the competition was reformed due to the stopping of the women's team of Lierse. Because of this, the seven teams played each other four times in total, without a playoff phase.
The following season, DVC Eva's Tienen fell out of the Super League. Since no other team wanted to promote to the highest level, the season started with six teams. Therefore, the format was adapted once again: the teams played each other four times, followed by playoffs where the first four fought for the title. In this season, RSC Anderlecht won its first title in 20 years.
The last adjustment of the competition was made at the start of the 2019-2020 season. The Super League is still played with six teams, but without playoffs. After the four confrontations against each team, a fifth round will be played. The three teams in the top of the league after 20 matchdays play three games at home and two games away. The other three teams play three games away and two games at home.