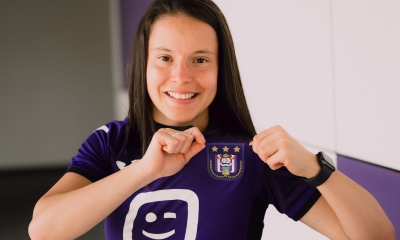 Ștefania Vătafu (29) just signed a new contract for the next two seasons. The Romanian is a key piece of the RSCA Women's layout and brings technique, confidence and calm to the team.
Ștefi, who had already won six league titles in her homeland with Olimpia Cluj, briefly defended the colours of UD Granadilla Tenerife before coming to Sporting. Although modest and timid off the pitch, she played a prominent role on the pitch in the five consecutive titles and Belgian Cup she has played for purple and white since her arrival.
"In 2018 I didn't know my teammates and the country very well, but now I really enjoy living here in Brussels and have really got used to it. The team has almost become a family for me. I liked the club right away because I like the working conditions. We have everything we need. The approach is professional", Stefania explained recently.
"Ștefania Vătafu is a paragon of professionalism who always gives her all and has exceptional qualities. She is discreet and does not really stand out except by the way she plays. She talks with her feet. She will never knock out a rival five times in a small space, but she is very efficient and above all makes her teammates play better", said Dave Mattheus, head coach and technical director of the RSCA Women.